This is just a small portion of our unpaid, volunteer Staff. Others were busy setting up or completing projects for the Anime Banzai Convention. We love this convention, and we all pour our hearts and souls into it!
The Anime Banzai Convention is an educational convention focusing on Japanese anime (animation), manga (comics), and culture. Anime Banzai is sponsored by Utah Anime Promotions, a non-profit educational organization dedicated to bringing the culture, art, and fun of Japan to Utah.
The goal of the Anime Banzai Convention is to bring an event to Utah where fans can come together to celebrate Japan and Japanese Culture in a fun, safe, family-friendly atmosphere. To that end, we hold our convention three days each year in October over UEA weekend with panels, events, and contests that will let fans enjoy their favorite aspects of Anime and Japanese popular culture.
The Anime Banzai Convention was founded by the Salt Lake Community College "End of the World" Japanese Animation Club in 2005. That first year, there were over 600 attendees. We were only expecting, at most, 200 attendees! The second year was also held at Salt Lake Community College.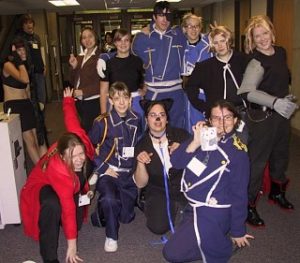 This is a group of cosplayers dressed as several characters from the anime Fullmetal Alchemist at the second Anime Banzai in 2006, which was held at Salt Lake Community College for the second and final time. Fullmetal Alchemist is just one of many popular animes. The manga first ran from 2001-2010, and the first anime began running in 2003. Fullmetal Alchemist: Brotherhood came later in 2009.
To provide more room for our attendees, we moved to the Sheraton Hotel in downtown Salt Lake City for three years: 2007, 2008, and 2009. But even this wasn't enough! We quickly outgrew the hotel with approximately 3,000 attendees in 2009.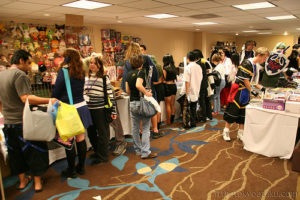 These are some attendees at the highly popular AMV Contest at the Ten Year Convention held in 2014 at the Davis Conference Center in Layton. The AMV, or Anime Music Video, Contest is an extremely popular event where contestants submit their video to the contest in hopes to win one of the prizes in the categories of Action, Comedy, Drama, and Category X (for everything else). These are voted upon by the attendees watching the contest. There is also a prize for Best of Show; this is awarded by the judges who saw something special in that particular AMV.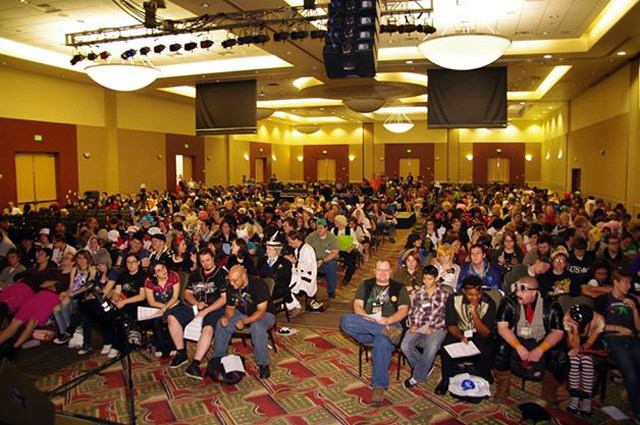 Some of the biggest draws to Anime Banzai include the AMV Contest, the Cosplay Contest, the Formal and Informal Dances, our Video Gaming Room, and the fact that a ticket is all-inclusive. Attendees can get into the Viewing Rooms, all events, all panels, and all contests without paying extra. The guests are free – you can get autographs, get photographs, and go to their panels with them without paying anything extra. This is the way we've always run Anime Banzai, and it's the way we plan to continue to run Anime Banzai.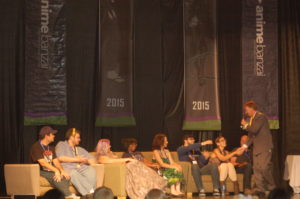 A panel with all our guests at the 2015 Anime Banzai Convention held at the Davis Conference Center in Layton – Tanglwyst De Holloway, Michelle Ann Dunphy, Christopher Escalante, Bill Galvan, Danielle McRae, Steve "Warky" Nunez, Larura Post, and David Vincent. We are grateful for our guests who help make Anime Banzai the great convention it is each and every year.
2019 was Banzai's 15 year anniversary, and it was a big one. Of course we had Warky, but we also had
And then, 2020. Covid-ention – the Con That Wasn't. That's enough said about that mess.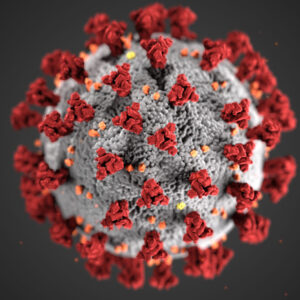 And, not that we're suggesting anything, but there are people who get engaged at Anime Banzai also!
We can't wait to see you again next year!